I began working with Textiles in January 2011, and was soon hooked. I started on CityLit's Textiles day course with Louise Baldwin, with additional ad hoc workshops at studios such as Art van Go in Knebworth. Although I draw, paint and print, I feel my main focus comes back to textural work – in fact all the disciplines feed into each other.
A lot of my work, in various media, is around Spurn. I have collected everything onto this page.
I was delighted to become a member of Prism Textiles at the end of 2021, and to have work displayed in Untold at the Art Pavilion, Mile End, in April (though, yet again, I was in hospital and couldn't attend in person).
Fortunately new members could show work which had been previously exhibited (we had little time to prepare new work) but I did make a couple of new pieces. One very close to my heart is this little book about the Brig Emma.
The Brig Emma Closed: 15 x 13.5 x 1.5 cm. Rusted, painted and dyed fabrics, including recycled maritime flag and net curtains. Hand stitching with unsteamed thread. Mixed media images and marquetry veneers. Gold foil. 18th century button. Image transfer.
This small book tells the story of the Brig Emma and its last voyage. I was able to access original newspaper reports and admiralty records through contact with archivists and the great-granddaughter of Emma's captain. The bookmark is a copy of Capt Barrett's mourning card.
textiles2020 Exhibitions
Stories in Stitch at Espacio Gallery, London, March 2022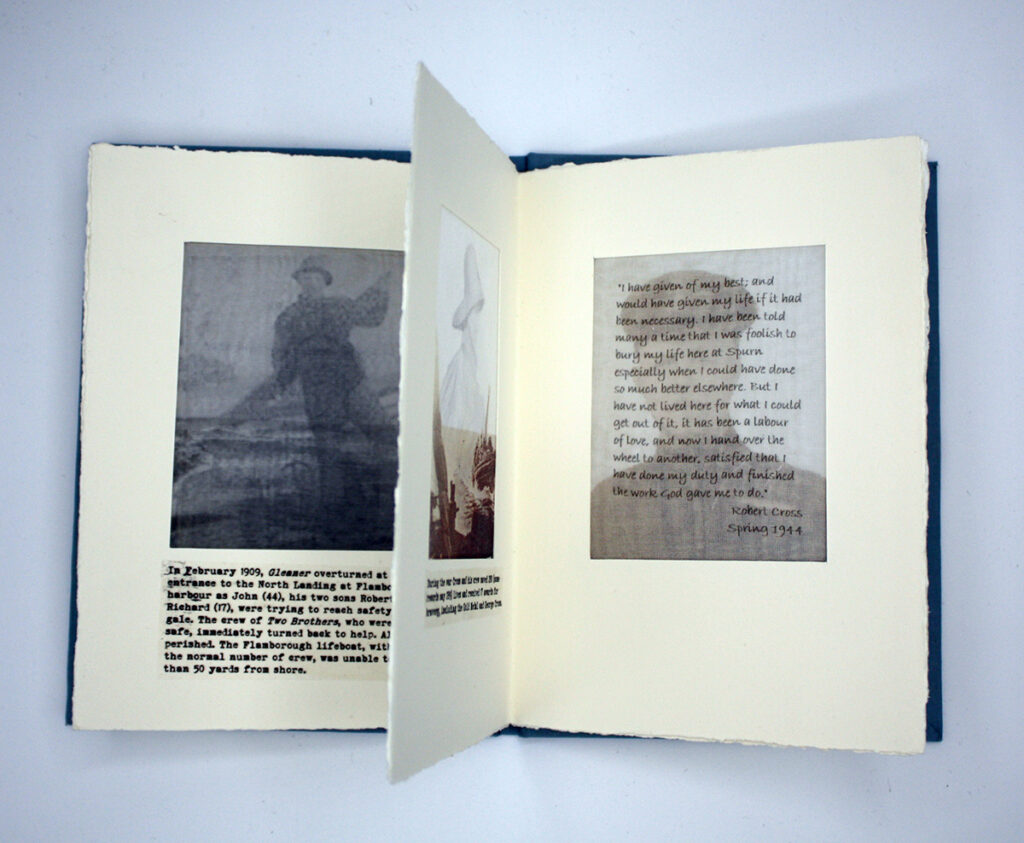 Robert Cross (book)
15.3 x 12.2 x .9 cm
Drum leaf bound book with double-sided inserts printed on silk, book cloth covered board covers embossed with Spurn lighthouse outline. The book relates information about Robert Cross, coxswain of the Humber lifeboat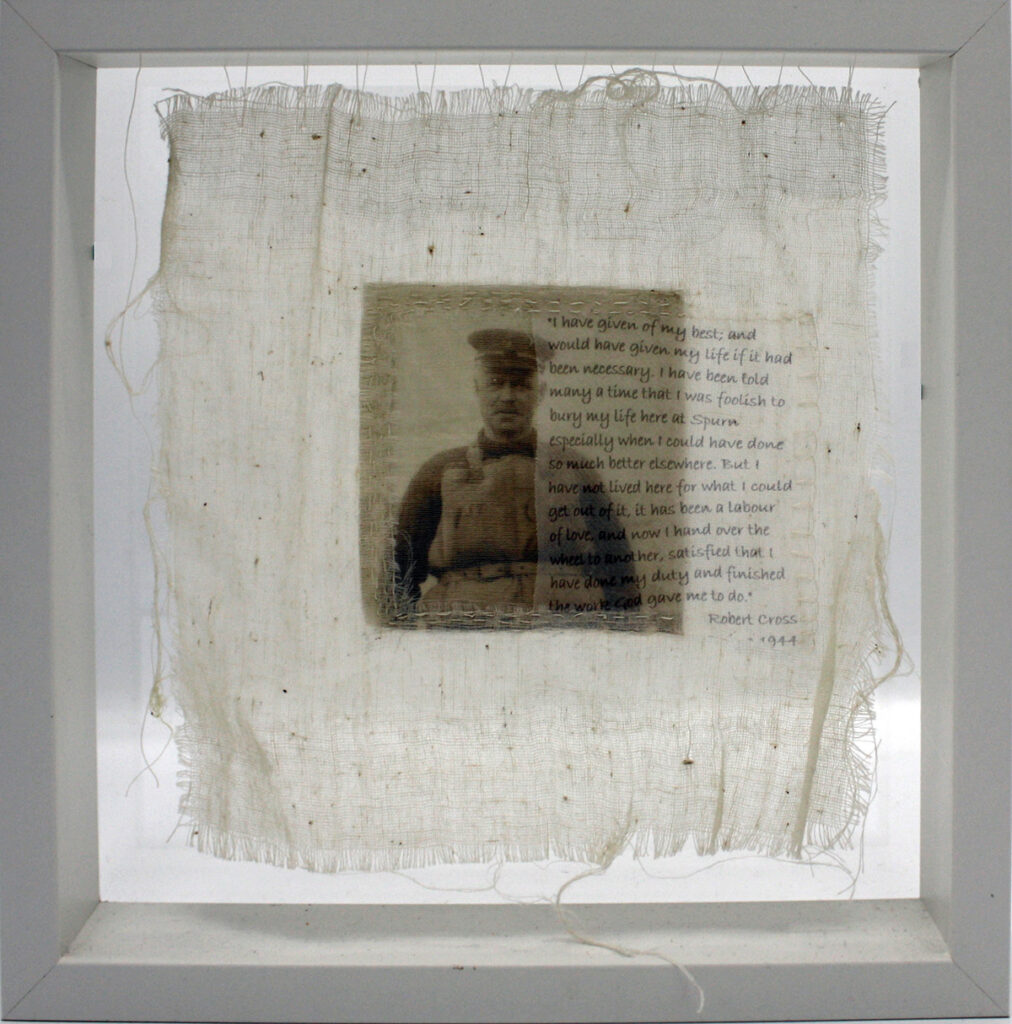 Robert Cross
27 x 27 x 6 cm
Stitch and print on organza and muslin, suspended and floating in a frame. Robert Cross, coxswain of the Humber lifeboat based on Spurn, is one of the RNLI's most highly decorated lifeboatmen. The text is taken from his retirement speech.
Untitled 5 (left, or top), 43 x 33cm, acrylic and watercolour on paper with collaged fabrics and lutrador. Untitled 6 (right, or bottom), 43 x 33cm, image transfer on paper collaged with fabric scraps and threads.
Spurn Scroll, 50 x 25 x 10 cm
Various fabrics joined together, paint, dye, machine and hand stitching, image transfer. The scroll is wound on two spindles so the central image can be changed, and is held on a stand.
Spurn Lines I
Mixed media book with various papers, prints, stitch, cottons and silk, image transfer. Printed fabric cover from original photographs. Stab binding. 28.5 x 15 x 1.2 cm closed.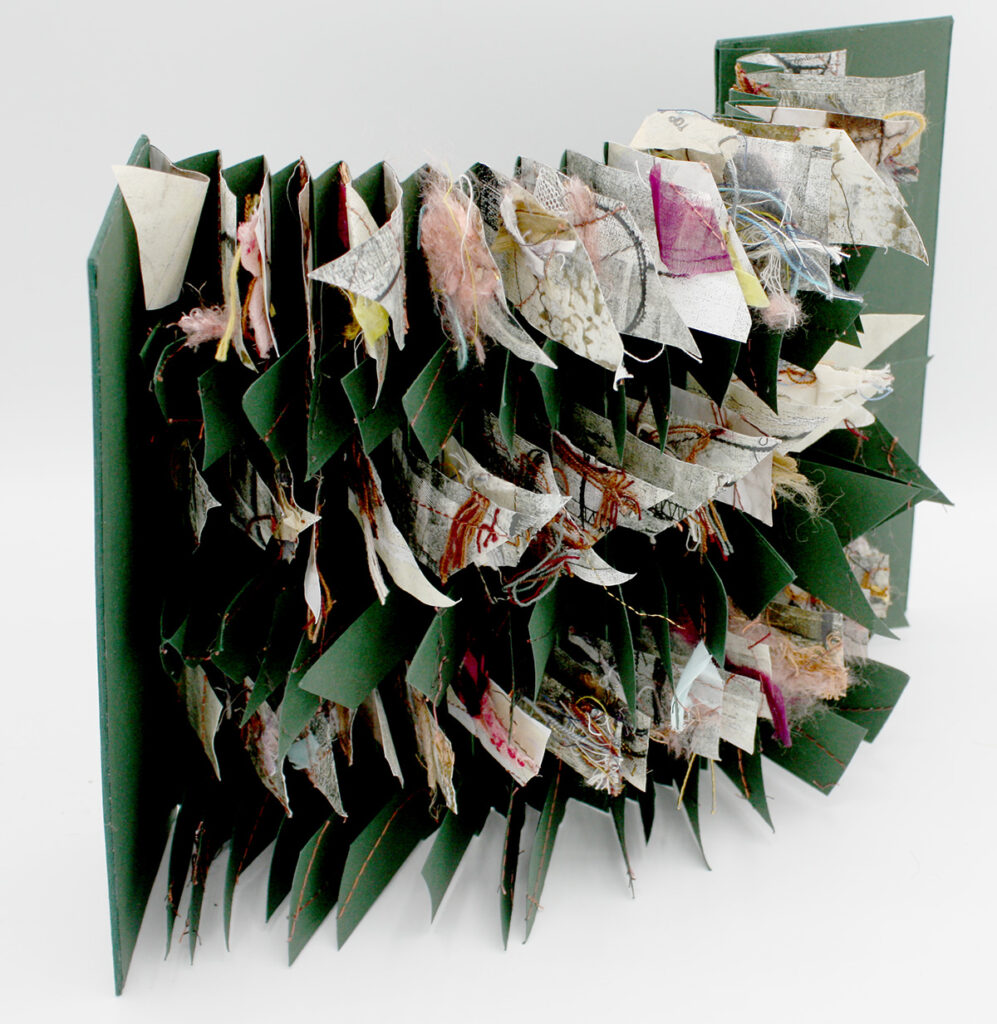 Spurn, flotsam
8 x 22 x 3 cm closed
Flag book with machine stitched paper, acrylic, oak gall ink and bound with book cloth
Untitled 1, 2, 3 and 4: a series of four images of groynes at Spurn; lithographs (which took two days to produce) printed on calico, and then collaged with fabric, threads and gold foil. Each 23.5 x 32.5 cm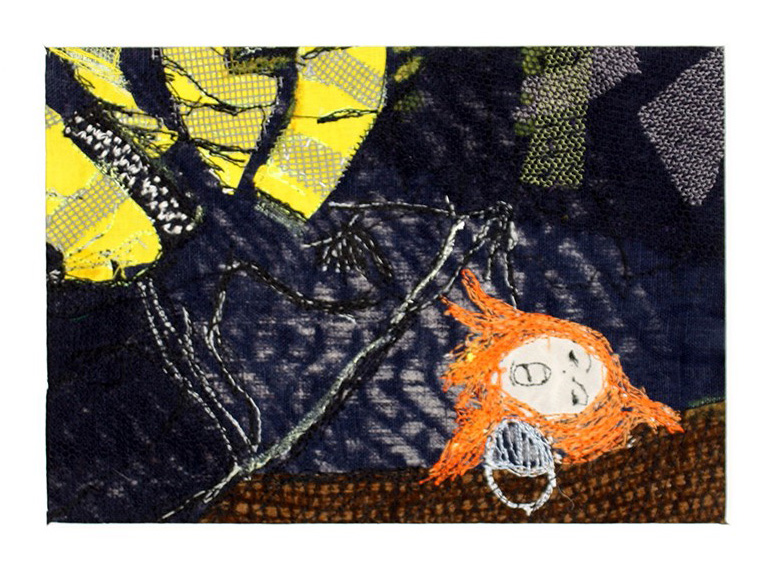 Peaceful protest
23.5 x 32.5 cm
Collage and machine stitch. Completely difference from my usual work: a reaction to the arrest of Patsy Stevenson at the Clapham Common vigil for Sarah Everard
Textiles2020: The Show, December 2020, Espacio Gallery, London
I decided to make two major pieces for this exhibition.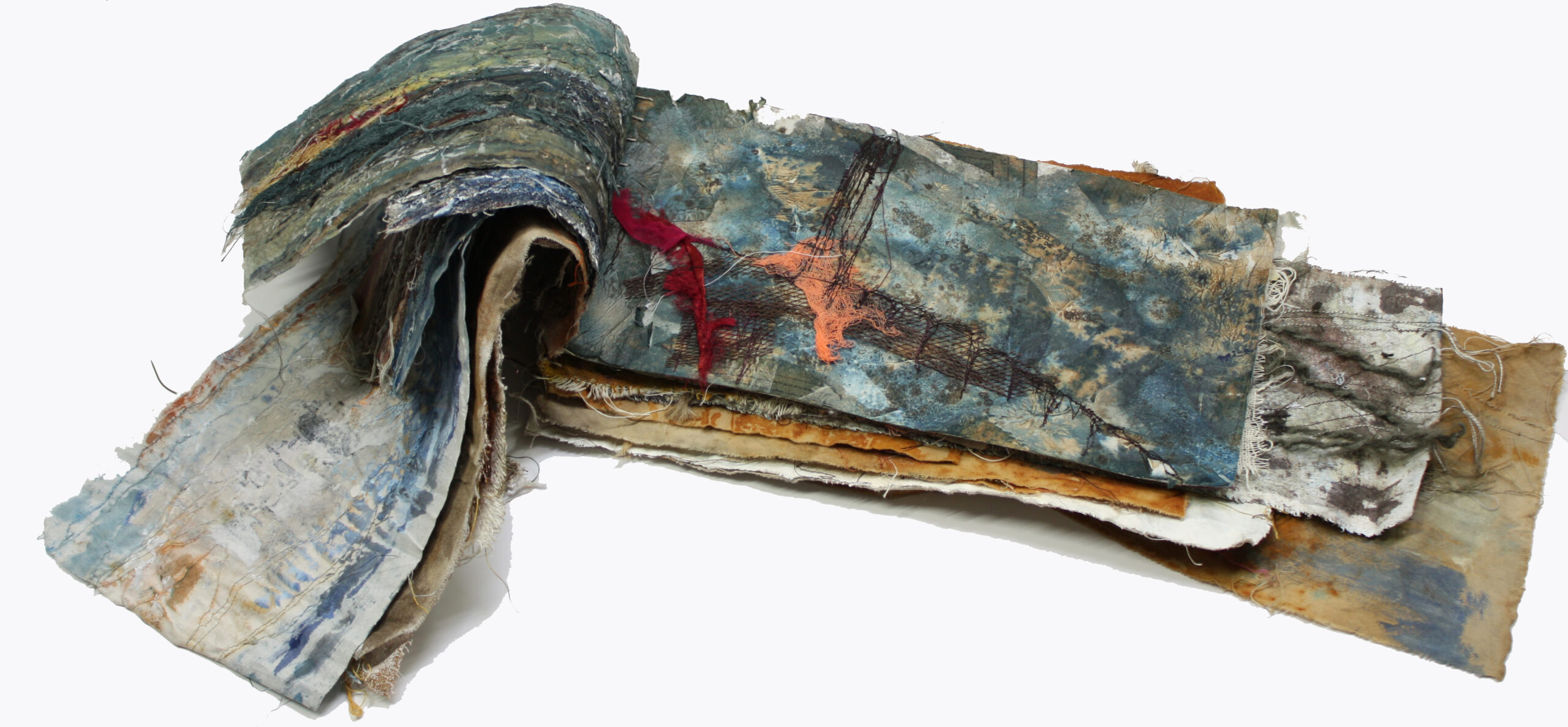 I became fascinated by the dramatic effect of natural forces on the vulnerable Humberside coastline at Spurn Head. The power of the elements has overcome sea defences causing erosion, coastal movement, and displacing the once thriving community from this unstable, impermanent headland. This book is my response; it was shortlisted for the 252nd Royal Academy Summer Exhibition in London (postponed from Summer to Autumn, hopefully).
The book didn't make the final cut … but I had mixed emotions here: it meant it was available for our December exhibition and, given the difficulties I had experienced during the year, it was a relief. And I hadn't actually had it long enough, so am happy to have it. And I was absolutely delighted to have the work shortlisted from such a strong field.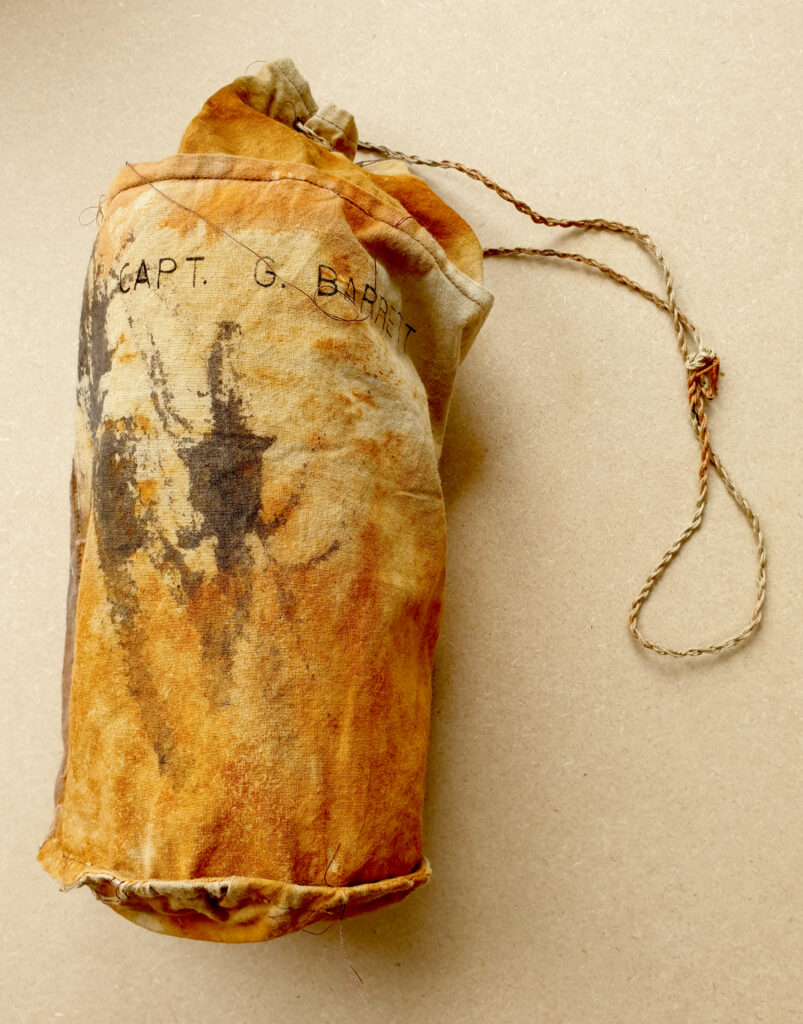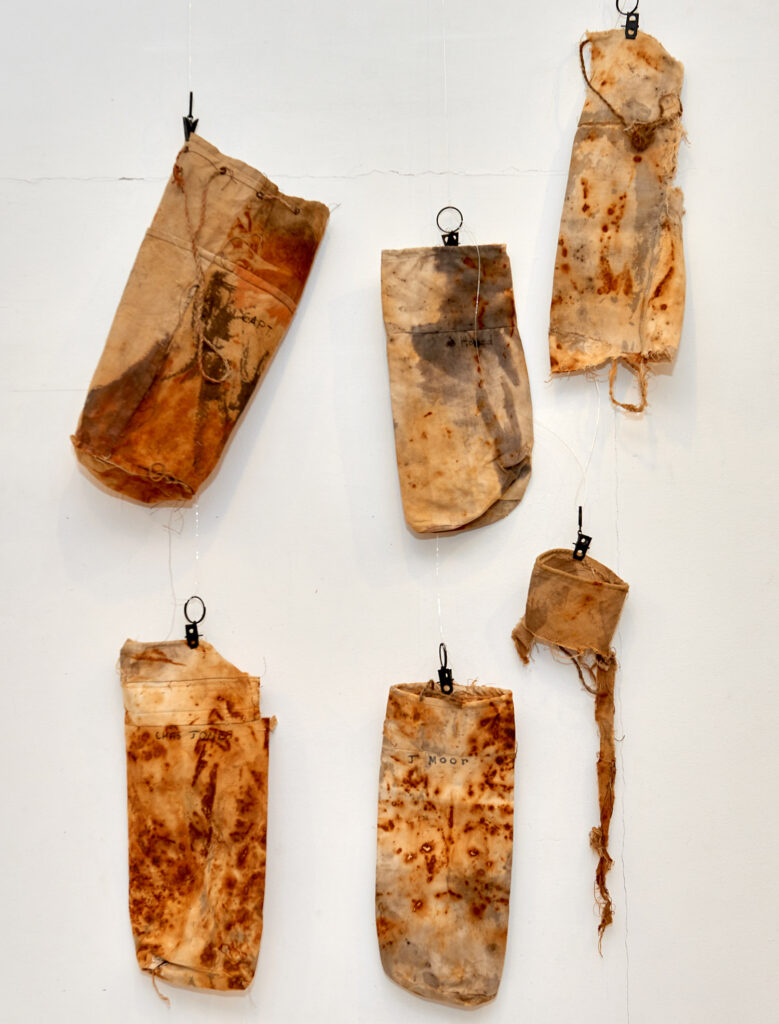 Sailors' kit bags
100 x 80 approx (bags are approx 29 x 12cm each). Distressed rusted, painted and dyed cotton fabrics, thread and string. Stencilled.
The Brig Emma foundered in sight of men on Spurn desperate to help. Three bodies, unidentified, were washed ashore the following day, and interred in a single grave. Naval records identify five crew members, but the youngest, William Best, was never officially acknowledged. These named kit bags mark their loss.
These bags (and a new one for Capt Barrett) were displayed at the Prism "Untold" exhibition
Whilst researching this work I became deeply affected by the story of the loss of the Brig Emma just off Spurn in a gale in November 1893, and was able to access the research done by his great granddaughter, Meg Hartford. I made this small book to keep everything together.
2020
My colleagues and I formed an exhibiting group at the end of our Advanced Textiles Course with CityLit, the last few months of which were very difficult … I was classified as clinically extremely vulnerable and had to shield for month, and just before we were permitted one walk daily I was admitted to St Mary's for life-saving surgery (non-Covid related!) and spent just over six weeks there in three admissions. I did manage to join the @seamcollective September Challenge from my hospital bed with the help of my daughter and husband, who took photos for me from which I could make my selections.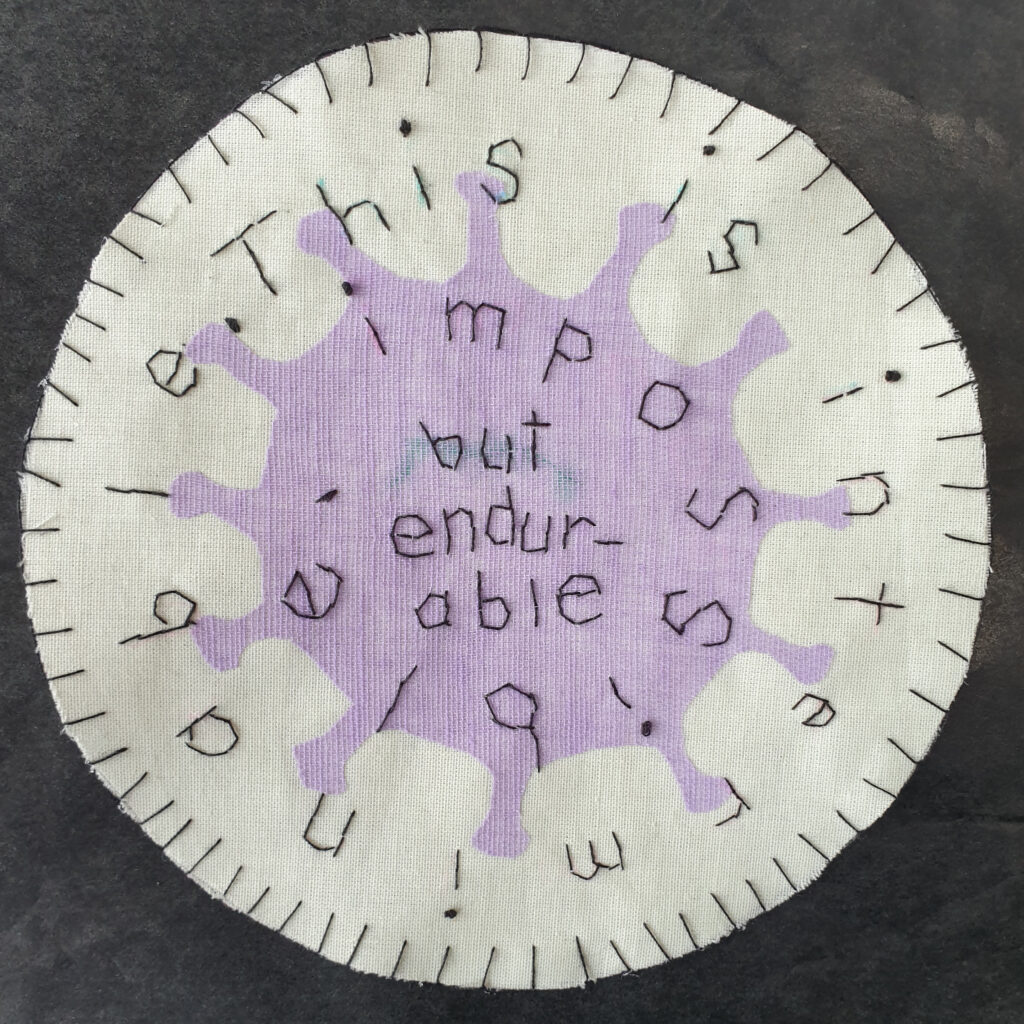 Update: Lara moved her piece to the back of the work, along with the names of all contributors, and put mine in its place (thank you, dear Lara). The work is now in the Victoria and Albert Museum and can be found here.