A lot of my work, in various media, is around Spurn – you can find it on this page.
The Northern Lights
This small concertina book was made to celebrate the first birthday of my beautiful, youngest granddaughter, Aurora. On the night she was born in 2022 the Aurora Borealis went wild, as if announcing her arrival. Images of the sky are overlaid with an old Scottish poem by Violet Jacob.
Of course I'm not
This concertina book accompanied my stitchings of the same name in the Prism "Warped" show in April/May 2023. Drypoint etchings on beautiful Zerkall paper.
Miniature books
I did a lovely short course in the autumn with Royston Haward at CityLit making miniature books. Here are some of my examples:
Life drawing sketch books
Part of my planning for post-op recovery in the early part of 2022 was to make books. I had culled my life drawing portfolios (three or four huge stores of never-to-be-looked at images, so I cut them up, made them into signatures, and have been binding them into books. My challenge was to try a different binding for each book. It was a lot of fun; here are some examples:
Spurn Lines I
Mixed media book with various papers, prints, stitch, cottons and silk, image transfer. Printed fabric cover from original photographs. Stab binding. 28.5 x 15 x 1.2 cm closed.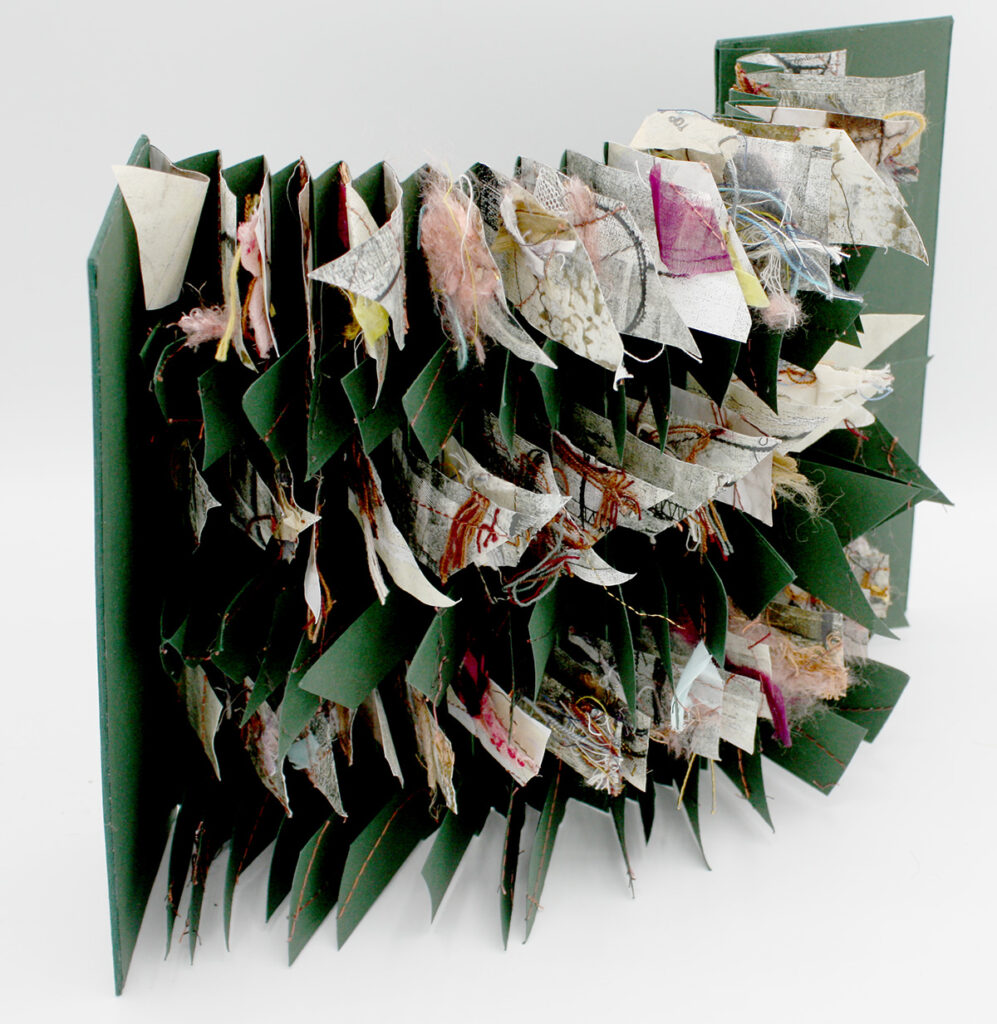 Spurn, flotsam
8 x 22 x 3 cm closed
Flag book with machine stitched paper, acrylic, oak gall ink and bound with book cloth
Spurn Scroll, 50 x 25 x 10 cm
Various fabrics joined together, paint, dye, machine and hand stitching, image transfer. The scroll is wound on two spindles so the central image can be changed, and is held on a stand.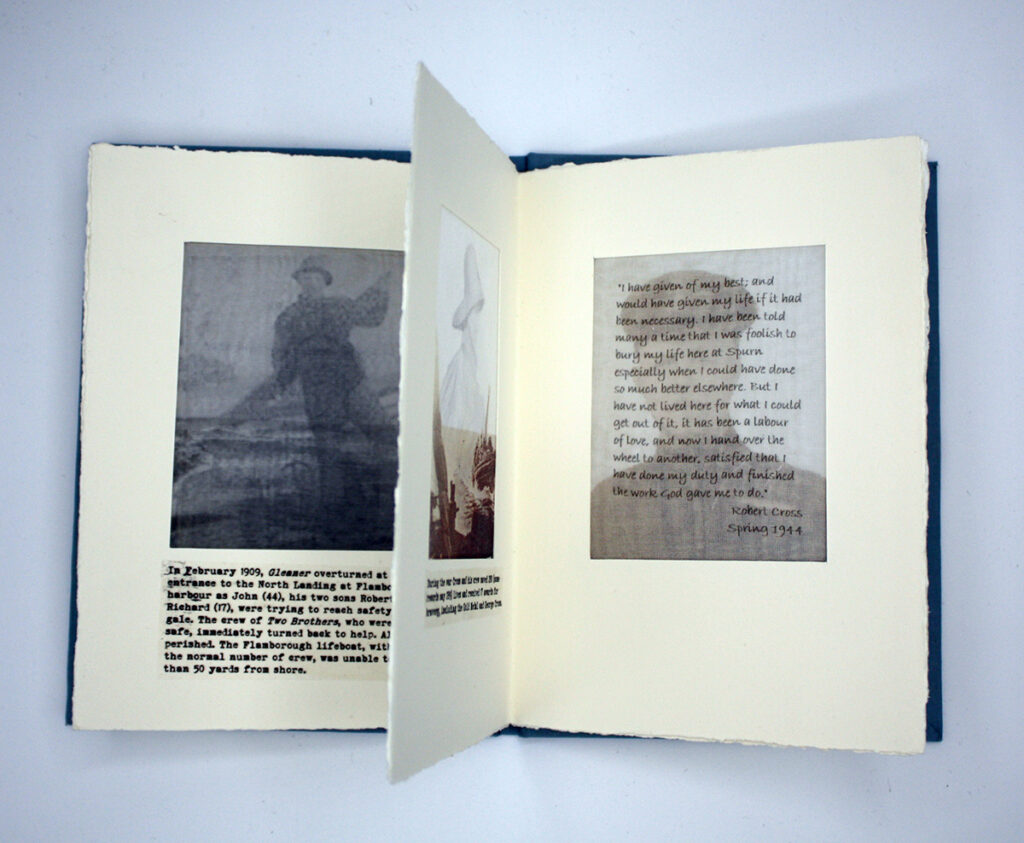 Robert Cross (book)
15.3 x 12.2 x .9 cm
Drum leaf bound book with double-sided inserts printed on silk, book cloth covered board covers embossed with Spurn lighthouse outline. The book relates information about Robert Cross, coxswain of the Humber lifeboat
The Brig Emma
Closed: 15 x 13.5 x 1.5 cm. Rusted, painted and dyed fabrics, including recycled maritime flag and net curtains. Hand stitching with unsteamed thread. Mixed media images and marquetry veneers. Gold foil. 18th century button. Image transfer.
This small book tells the story of the Brig Emma and its last voyage. I was able to access original newspaper reports and admiralty records through contact with archivists and the great-granddaughter of Emma's captain. The bookmark is a copy of Capt Barrett's mourning card.
Mind the Gap
I have spent some three or four years taking photographs on the tube – of men taking more than their fair share of space at the expense, frequently, of their female neighbours. The book comprises 20 pages and front and back covers in a concertina form. The men's identities have been hidden, and the images have cryptic comments beneath them. An edition of 30.
I was absolutely thrilled when this book was selected for the Royal Academy Summer Exhibition, especially following the shortlisting of Spurn last year. Woop woop!
People Along the Sand: a piano hinge book, printed on Japanese washi paper; cartridge spine with map of Spurn Head and names of some of the people featured in the book. It shows the some of the people who once lived on Spurn, and tells a little of their lives.
Street S**t is a double-sided concertina book of etchings printed on either Fabriano or Somerset paper. Edition of five. The images come from a short journey of two parts: walking from CityLit to Holborn Station and from Dollis Hill Station to my home. I collected detritus en route and started to make comparisons – for example laughing gas capsules (H) and children's dummies (DH); a used condom (H) and a burst balloon (DH). The tube roundels signal the start of progress; if you begin here and have the book, concertina-like, going away from you, the visible pages show objects from that station's journey – view from the opposite end to see the other journey. Facing pages show paired objects from the respective journeys.
Spurn
This textile book based on the people and history of Spurn, a spit of land at the mouth of the River Humber, was shortlisted for the Royal Academy Summer Exhibition 2020. Joy!