After a lifetime of working as an IT consultant and teacher, I retired and decided to explore the more creative side of my brain. I was already taking life drawing classes with Brian Sayers, and found myself sketching and scribbling most days.
I soon became involved in Textiles, under the wonderful guidance of Louise Baldwin at CityLit, starting in her Day Textiles class then progressing to the two-year Advanced Textiles course. I'm now a member of textiles2020.
Whilst taking a 2-year Fine Art course I became interested in printmaking and bookbinding, and my work now embraces all forms of media.
I need emotional commitment as a source of inspiration hence I have chosen to explore such subjects as family; medical history; the sea.
Sometimes the trigger can be another art work or image, a line of poetry, a long-forgotten memory or a tenuous connection which prompts an emotional response. I then attempt express this in words – I write the depth of feeling, searching for what it was that scratched my soul. My notebooks record the journey this process prompts through words, images, stitch and a range of media.
Deep research, recorded in my artist's notebooks, is an integral part of my process. Since my introduction to bookmaking and printmaking techniques, these can become artefacts in themselves.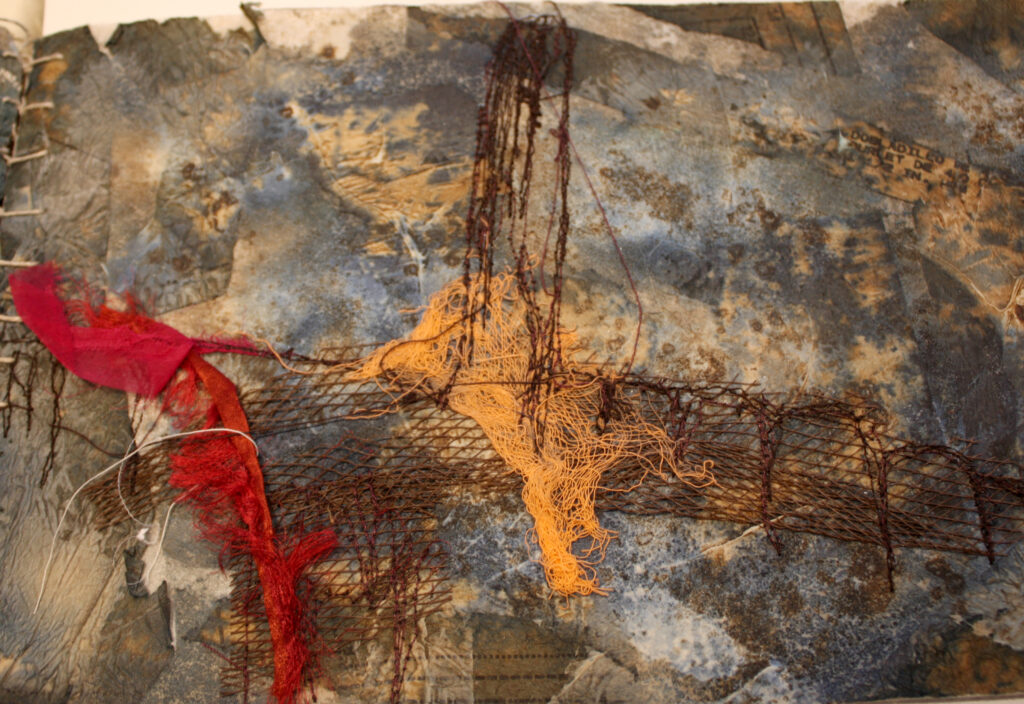 An example is my long-term fascination with Spurn Head at the mouth of the Humber. The depth of my engagement with this particular land- and sea-scape and the works it has generated now justify a separate page on this website.
I love showing in exhibitions – especially with other artists.
Member, Prism
Member, Printmakers Council
Member, Designer Bookbinders
Member, Society of Bookbinders
Member, textiles2020
Find me on instagram: @patti.taylor44
Textiles | Books |Painting/drawing| Print | Collage/MM/3D | Marquetry | Blog | Exhibitions